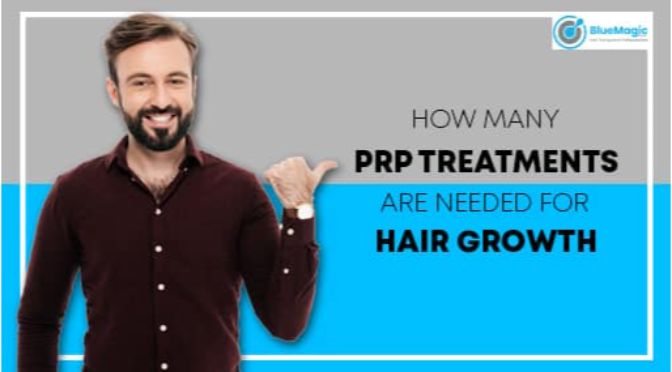 Jun 02, 2020
BlueMagic Group
How many PRP treatments are needed for hair growth?
What is PRP therapy for hair loss?
PRP or Platelet-Rich Plasma treatment is a systematic hair loss therapy that doesn't involve surgery. It is based on injecting a concentrated solution of plasma in the patient's scalp to stimulate hair growth. Several studies suggest that this therapy has shown tremendous hair growth evidence due to which many patients didn't require a hair transplant surgery. On the other hand, some patients underwent hair transplant surgery, along with the PRP treatment, to enhance the overall outcome of the process. 
With that being said, one PRP therapy may not be enough for every individual. Several Individuals, to date, wonder how many PRP treatments are needed for hair growth. Well, the answer to that depends from person to person. However, a brief gist can be evaluated. At Blue Magic Clinic, all PRP procedures are broken down into weekly sessions between 4-6 week intervals. On finishing the first treatment session, the patient will have to go for follow-up sessions every four to six months to ensure that the therapy offers only a positive outcome.
Working of the PRP treatment 
Plasma is an extremely vital element in the blood containing white blood cells, red blood cells, and platelets. Platelets are essential to blood fluids that assist and repair blood clots, scab development, and boost the human body to repair and heal itself without any external requirements. Moreover, they additionally help in promoting growth factors after different clots and injuries, thereby driving the growth of varied tissues. 
PRP treatments smoothly blend with platelets to benefit from their capability of healing. Today, the PRP treatment is used extensively for rejuvenating facial skin and healing joint issues. Along with these factors, several patients are utilizing this therapy for a consistent and effective hair loss process. In brief, these treatments require a specific amount of blood. The blood sample is then utilized in an automated centrifuge system for incorporating the nutritious or platelet-rich plasma with the remaining blood. For the overall procedure, the plasma solution requires about five times the normal platelet level concentration. 
The solution is regulated and gently utilized on the affected areas of the scalp with an injector device. The device helps in distributing a very precise amount of the PRP solution to the scalp. Doctors suggest that for enhancing the success rate of the PRP treatment, patients should undergo about three distinctive sessions, each positioned every 6 months. After this, patients should ensure undergoing a single effective therapy every 6-12 months for sustaining the therapy effects for a longer period. Nonetheless, the number of therapies is solely based on the number of affected areas your scalp contains. 
Are PRP treatments successful? 
While PRP treatment is a much more advanced treatment, most patients wonder if it is worth it or effective enough. It comes as no surprise that this treatment works wonderfully. However, experts are still researching the therapy to find more details about it. According to the known studies, almost all PRP treatments have had a positive impact on the patients. However, this also depends on the medical center you choose to get your treatment done in. Reputed medical centers from all over the world make use of digitally-advanced technologies for streamlining the process of hair restoration. Blue Magic Clinic, with their hair transplant professionals, offer the most cost-effective and effective hair growth services.
Nonetheless, to be precise as to how effective the treatment is, it depends on how your hair is damaged or affected. The sole motive of a PRP treatment is to boost hair growth in different scalp areas, especially the miniaturized hair areas. Patients must deliberately consult their doctors before undergoing the treatment. 
Is PRP treatment permanent? 
As previously stated, PRP treatment needs several sessions for maintaining and boosting the hair growth process. Every patient is asked to visit follow-up sessions every 6-12 months, at least. While the chief purpose of the treatment is to stimulate hair growth and thicken different hair areas, note that it won't help in migrating the formation of new bald areas in the untreated regions of the scalp. The treatment is not permanent; how long it remains depends on patient to patient. However, the treatment unquestionably offers long-lasting results. 
How much does it cost? 
Since PRP treatment is complex and advanced hair growth therapy, you might be wondering how costly it is. Most PRP treatments are broken down into three procedures that take place one after the other, every 6 weeks. The price of the treatment can range from $1000-$3500 in the first three treatments. BlueMagic Clinic offers substantially affordable range treatment packages to ensure that the patients have the opportunity of regrowing their hair without encountering a financial strain. When it comes to the maintenance treatments that are done once every 6 months, their costs are based on your geographic location, need for nutritive elements, and the quality of technologies and equipment used. 
You can find a plethora of hair loss therapies for regrowing your hair starting from Propecia, rogaine, and even hair plant surgery at Blue Magic Clinic Group. However, the new trending and effective therapy is the PRP treatment. Make sure to get through insights into this therapy to ensure that it is best suited for you.