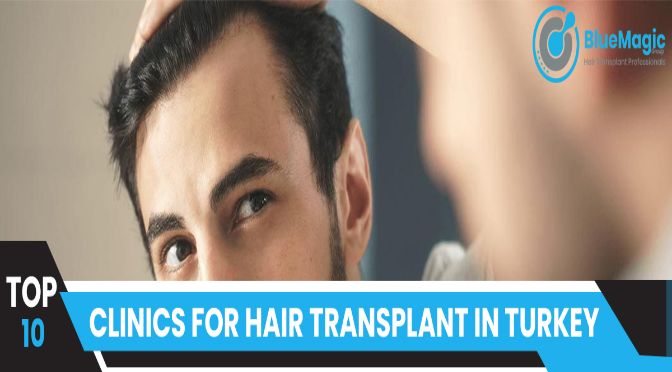 Aug 13, 2020
BlueMagic Group
Top 10 Clinic For Hair Transplant in Turkey
Hair transplant is one of the most common treatments which is desired by everyone who is suffering from hair fall or bald patches on their head. 
Because of the reason they miss their long locks, they often find alternatives & visit different doctors, skin specialists, dermatologists to find solutions for their hair issues. 
In the end, when unfortunately they are not able to find any permanent solution for their hair issues, they end up considering hair transplant.
One must have often come across Turkey, the world's ultimate destination for hair transplant & surgeries. Where everyone from the world goes to find the best hair transplant solution in Turkey for their folic & hair issues, it has been reported that more than 5000 people travel to Turkey for medical reasons. 
POPULARITY IN TERMS OF AFFORDABILITY:
In Turkey, there are different procedures and methods are offered by different clinics which include surgery, FUE & FUT, etc. which are supposed to be the most popular hair transplant procedures of all. These procedures cost-effectively affordable in Turkey. 
The best part is that Istanbul best hair transplant is usually calculated as per the session. It is not broken down into per unit of hair follicle extracted. 
The procedures followed by hair transplant in Istanbul turkey in terms of medicine is so advanced, that they are able to keep up with expertise which is offered in the US but for much lower cost compared to there. 
Also, it is not just the head or scalp area which can be treated for no hair growth, these procedures are even involved in giving men their fuller facial hair and beard, as well as for women to achieve that desired look for their eyebrows. 
APPRECIATED ALL OVER THE WORLD:
It has been reported that hair transplant in Istanbul turkey is so famous that there are men and women from many different countries who fly all the way to Istanbul to get their desired hair on their head. 
Also thanks to its strategic positioning, the country perfectly attracts the tourists for this high revenue generating industry.
After a long research & consideration, we've come across a few places & spots for hair transplant clinics in turkey. In this article we will help you understand which clinic is best for you so that you get the best experience of Istanbul hair transplant. 
Below are the top 10 best clinic for hair transplant in turkey:- 
Experience & Expertise – 
The very first on the list & extremely famous hair transplant clinic in Istanbul is undoubtedly the Blue Magic Hair Clinic. This clinic has been excelling in hair transplant & FUE treatment surgeries since past 15 years with more than around 20,000 successful surgeries. 
Customer Satisfaction – 
When it comes to hair transplant, they are aimed to give the best to their clients, this unique clinic provides you support for the entire 12 months after your first sitting for hair transplant to conduct a follow up examination as well as they monitor your hair re-growth process. 
The Blue Magic Hair Clinic is made up of reputed & experts in the industry of hair restoration, hence they thrive for customer satisfaction more than anything. 
Highlights – 
The best part about Blue Magic Hair Clinic is that they provide affordable prices compared to the competitors, also they help people when it comes to finances with their easy finance scheme. In this finance scheme & while you get your hair restored, Blue Magic Hair Clinic aims to give you the best of Turkey by supporting with your all hotel stays which will be a stay in 5 star, airport pickups, drop offs, all of these expenses will be managed at no extra cost, we are to give you the best turkish hair transplant cost to you 
We are a team of accredited surgeons with years & years of experience where all over doctors are highly qualified & experts in this particular field
We make sure that the surgeries which are taking place, they are all happening only at leading hospitals in all over Turkey & Istanbul
Our clinic & our work has been recognized & as directed by JCI (Joint Commission International) quality standards and  FDA approved
Moreover, we give you a FREE PRP (Platelet Rich Plasma) therapy to enhance hair regrowth for greater satisfaction
Blue Magic Hair Clinic – they are well known for advanced technology and best services which help them to beats the international standards and approach & along with that they provide easy installment, Due to this they are on the top of the table of the best clinic for hair transplant in turkey.
HLC Hairline Clinic – Dr. Ötzan Özgür – HLC Hairline Clinic
This particular hair clinic in Ankara & Istanbul is successfully run by Dr. Ötzan Özgür, as he has been performing modern hair transplants on high level standards. He has presented natural hair restoration services which ranges from an aesthetically pleasing reconstruction or receding hairlines. Hair transplant on complex scalp areas including the crown & body hair transplant has been this clinic's speciality which has been giving satisfying results to their clients. 
The founder of the HLC Hairline Clinic Dr. Ötzan Özgür has been one of the very first physicians who has been performing FUE hair transplants in Turkey. 
HLC Hairline Clinic – Modern Hair transplant methods as being performed with best results which help many to revisit their younger self through our hair transplant methods, hence HLC Hairline Clinic takes 2nd place in the list of the best clinic for hair transplant in Turkey.
Dr. Mehmet Demircioglu – Diamond Hair Clinic
This pioneer in hair transplant was born in Istanbul & did his medical graduation from University Cerrahpasa Medical Faculty. Later he started to work with renown hair transplant surgeons so that he could complete his education in the hair transplant field. He was an observer in the Netherlands for many years. This expert has been doing operations of hair transplant also he has conducted many researches about genetic patterns of male balding's. 
When the Dr found Diamond Hair Clinic in 2012 it has been 8 years till the time this clinic has performed over 3000 successful fue operations. 
Diamond Hair Clinic – 7 Year of Hair transplant practice. Satisfied 
and pleased patients, who came from various parts of country 
providing VIP transfer.  Diamond Hair Clinic take 3rd Place in the 
list of the best clinic for hair transplant in Turkey.
Dr. Mbaraka Ahmed Ljohiy – Sanantur Clinic
During the current times, Sanantur Clinic is the only spanish company with its own hospital in Turkey – Istanbul who have been performing hair transplantation surgeries over there. They offer the best services with good prices to perform hair transplant. Their team is one of the best with more than 15 years of hair transplant surgical experience. 
The efforts of Sanantur Group is targeted to achieve 2 huge things. 
1 – Satisfaction of the patients
2- Giving out quality service. 
This has led this particular clinic to grow high in terms of brand name in the industry of hair transplant. 
Sanantur Clinic – Goal, recovering your hair with a complete natural look. It takes 4th Place in our list of the best clinic for hair transplant in turkey.
Clinicana – 
They offer a full range of cosmetic treatments, all the treatments by them are supervised by qualified doctors and nurses who prescribe the most appropriate treatment for every cosmetic problem. Staff by them offer a 24 hour follow up service and they are located in Taksim, Istanbul. 
Clinicana – the best part of this clinic is using the most modern processes together with high-quality facility & experienced surgeons.
It was one of the best result oriented clinics which took 5th place in my list of the best clinic for hair transplant in Turkey.
ESTETISTANBUL – 
A health facility since years providing treatment in the areas of cosmetic and dermatology with specialized treatments in hair transplant. With more than 1,500 international patients being treated every year and 80 hair transplant procedures taking place each month. This clinic helps you in visa assistance as well. 
Modern and effective methods, Mesotherapy, PRP, BTTherapy, good client service after treatment by considering this all factor Estetistanbul take 6th place in my list of the best clinic for hair transplant in Turkey.
Dr T Hair Transplant Clinic – Osman T Oguzoglu, MD – 
This hair clinic is working towards performing modern FUE techniques without leaving any scars. The doctor has performed more than 7,000 surgeries and he is one of the leading specialists in the field of Turkey's hair transplant industry. 
Dr T Hair Transplant Clinic is one of the oldest clinic in Turkey, also conducting the workshop to share the experience with colleagues, and training for international doctors – it takes 7th place in my list of the best clinic for hair transplant in Turkey.
Asmed – Koray Erdogan, MD – 
In 2001, This skillful doctor founded his own hair transplant clinic. By 2004, he had developed his own unique FUE system known as the "Sequential Technique" that has since been evidenced in forums and international publications. Dr. Erdogan exclusively performs FUE hair transplants at the ASMED Surgical Center, his personal clinic, together with six other physicians who are specialists in their respective fields.
The doctor is very dedicated to hair transplantation, one the most caring, skillful physician in the field – it takes 8th place in my list of the best clinic for hair transplant in Turkey.
AHD Clinic – A. Hakan Doganay, MD
This particular clinic & doctor has been doing hair transplantation since the year 2002. He specialized in hair transplantation as well as BHT (body hair transplantation – using hair from various parts of the body such as the beard and chest to restore hair to the scalp) eyebrow and beard transplantation (from beard to beard and from hair to beard) with the help of Choi Hair Transplanter / implanter Pen technique. In this technique, Dr Hakan Doganay uses small pen needles which have diameters of 0.6mm , 0.7 mm , 0.8 mm for planting grafts into recipient sites.
AHD clinic – extremely personal services & best naturalness of result delivered for the patients – it ranks 9th in my list of the best clinic for hair transplant in Turkey.
Resul Yaman, MD –
Dr. Yaman is an active member of International Society of Hair Restoration Surgeons (ISHRS), the world's largest organization of hair restoration surgery. He uses the Modified Micromotor FUE technique. He has performed exclusive hair transplant, facial hair transplant and eyebrow transplant surgery at his own clinic in Istanbul since 2009. He has more than 6 years of experience in the field of hair restoration surgery.
Active member of ISHRB – one case a day with our specialist team, 3000 surgery with 100% result – in my list of top 10 best clinic for hair transplant in Turkey, it takes last place.
Above is the list of some of the most reputed & best clinics for hair transplant in Turkey – Istanbul, out of which Blue Magic Hair stands tall & apart in front of everyone in the matter of quality, customer service, expertise & best treatment provided by them to each and every client all over the world. 
Where they take care to give you beautiful long locks, best of the stay in Turkey – Istanbul, also support you with your finances to help you achieve the look of your dreams!