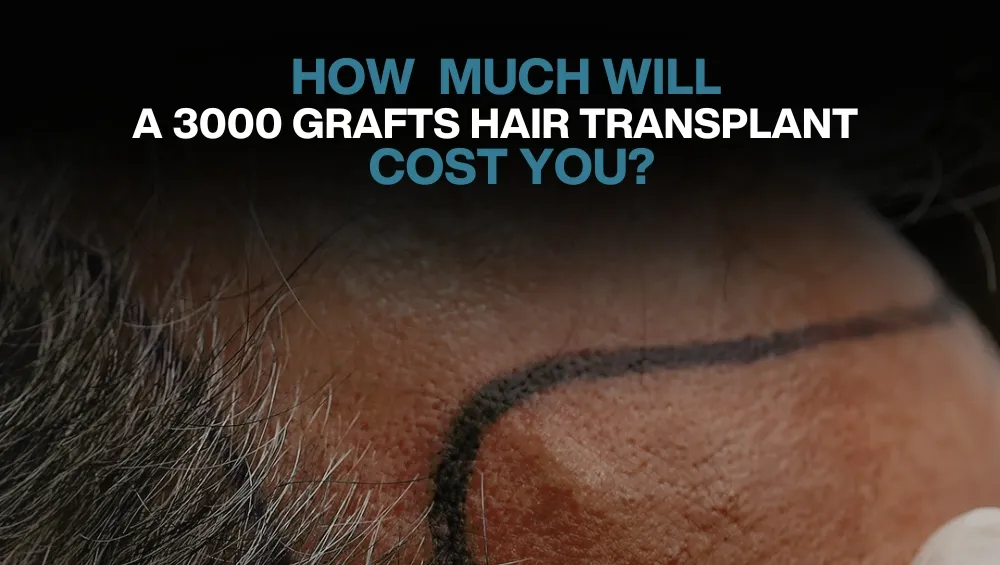 Jul 07, 2021
BlueMagic Group
How Much Does 3000 Grafts Hair Transplant Cost?
Going for a hair transplant in Turkey has become the best option for people who have lost a lot of hair. It comprises extracting healthy hair grafts from an appropriate donor area and transplanting them to the desired hairline and look in the targeted area.
But, how do you calculate how many grafts you'll need to attain the desired look and coverage?
It's simple. The larger the patch of hair loss, the more grafts will be required for transplantation.
The Norwood scale, which is the most extensively used approach for measuring the severity of male pattern hair loss, is used to estimate how many hairs grafts each patient needs.
Wondering which level of hair loss needs a 3000 graft hair transplant and what will be the 3000 grafts hair transplant cost? Norwood 3-vertex and Norwood 4 hair loss types are often appropriate for a 3000 graft hair transplant procedure.  3000 grafts hair transplant costs between $1,800 to $2,200 in Turkey.
If you have mild to severe hair loss in the frontal and crown areas, you will be able to go for Norwood 3-4, in which case a 3000 graft hair transplant may be appropriate for you.
The average coverage in Turkey is 90%, with some clinics reaching even more than 95%, making it one of the top destinations in the world to have your hair transplant services.
The medical experts at BlueMagic Group can help you identify your hair loss stage and the number of grafts you'll require.
Thousands of people have chosen Turkey for their hair transplant surgeries, and BlueMagic Group offers one of the best all-inclusive packages. It includes hotel accommodations, transportation, and a variety of medical services. 
This makes BlueMagic Group an excellent choice for 3000 graft hair transplants.
Factors Affecting The Cost Of Hair Transplant
The cost of a hair transplant is determined by a number of factors, including:
The hair transplant cost in Turkey is determined on the basis of the volume of hair you want to get transplanted. Treatment of a few patches will be far less expensive than treating hair loss all over the scalp.
FUT and FUE are the two most common hair transplant methods used in Turkey. FUE hair transplants are more expensive than FUT hair transplants.
Experience Of The Surgeon:
Hair transplant surgeons with a lot of expertise and better skills may charge extra for their services. However, a greater price does not always mean a superior surgeon, so research extensively.
The Number Of Grafts Required:
A hair transplant in Turkey costs anything from $500 to $8,000, depending on the number of grafts that need to be transplanted.
The Number Of Surgeries Required: 
Hair transplant procedures are usually performed in one session. However, if the bald area is large, you may need two or more sessions.  This may add to the cost.
Some clinics charge more than others since their hair transplant package includes meals, hotel stays, sightseeing, and pick-up and drop-off facilities. The more services a clinic offers, the more costly it will charge you.
For a successful hair transplant, you'll need a sufficient number of healthy hair follicles. If your follicles aren't present at the back and sides of your head, you'll need to harvest follicles from your beard and chest. 
Because these follicles are so delicate, transplanting them takes longer and requires skills. This task requires a high degree of experience, therefore it impacts the cost of a hair transplant.
Don't forget to include recovery costs, such as medicines and follow-up visits, when planning for a hair transplant.
Payment For 3000 Grafts Through EMI Option 
BlueMagic Group provides hair transplants on EMI. You can pay in easy installments. This is a smart way to pay for your hair transplant procedure without exhausting your savings.
It's a personal choice of how to deal with hair loss. But one thing is certain: if your thinning hair bothers you and other treatments haven't worked, a hair transplant is your best option.  It might be worth spending the money on.
If you're looking for a 3000 graft hair transplant at a decent cost in Turkey, contact one of the medical experts at BlueMagic now, and let's start organizing your trip! You can reach us for a free consultation regarding hair transplantation.