Mar 21, 2022
BlueMagic Group
Why Is Hairline Design Important In Hair Transplant?
Many people around the world who have balding problems and hair loss think about hair transplantation as a long-lasting hair solution. The hairline is perhaps the most important aspect of a hair transplant.
While hair transplants center around expanding volume and reestablishing confidence by developing full hair, poor hairline design for hair transplant can cause unfortunate outcomes in your hair transplant. The improper hairline can make hair transplant look unnatural and requires extra consideration. 
A right hair transplant gives patients a normal hair look that works on their appearance and confidence. Therefore, planning a hairline with your specialist will guarantee you get a high success rate of hair transplant.
A hair transplant is a permanent procedure; That's the reason it's essential to look normal. The way to hair transplantation that looks normal is a decent hairline plan. Cautious plans and careful designs are indispensable pieces of the hair transplant process. 
Careful preparation and meeting with every one of our patients at BlueMagic Group Clinic guarantee that hair transplants look regular today as well as from here on out. This article will make you familiar with the significance of planning your hairline during hair transplantation from the basics and shed light on why hairline design is important.
How Essential is Hairline Design in Hair Transplant?
For some individuals who are thinking about hair transplants, the objective of the method, much of the time, is to get a full head of regular hair back. Nonetheless, this won't continuously be the best outcome. In certain cases, while visiting any hair transplant clinic in Turkey, it is fundamental not to just focus on the complete volume of your hair but to check which hairline design is best for yourself and what looks generally natural and normal.
The main phase of baldness is a subsiding hairline. In this manner, hairline correction applies in practically all instances of hair transplantation in men. The right hairline is critical because it gives a characteristic, aesthetic, and natural look. Appropriate planning of hairline design will save you from undesirable second thoughts in your day-to-day existence.
Now let's dive into what a hairline is.
How Is Hairline  Helpful To Get Desired Hair Transplant Results?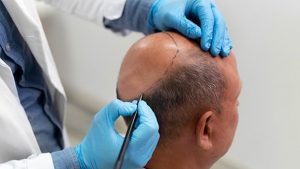 The Hairline is the area where somebody's face meets their hair and is generally recognizable to us when we look in the mirror and to others when we are in the public eye. In case the hairline doesn't look normal, the fact that you have gone for hair transplantation can be obvious to others. 
Any type of hair transplant can cause a terrible hairline on the off chance that the specialist doesn't have the idea of how to analyze and plan a good hairline design. It appears glaringly evident, yet a normal hairline seems as though you haven't had a hair transplant. It requires some time to think about a patient's facial style, race, and nationality, age. It's important to evaluate what looks the best considering.
Each patient's hairline is unique, and no two patients are similar. In this manner, care should be taken for every aspect. The outcomes should be as normal as could be expected.
Benefits Of Hairline Design
The main part of the hair transplant procedure is hairline planning which is important for dealing with baldness issues. It is a direct result of a few crucial decisions, and appropriate planning is required. A few choices that require genuine thought can be which center to pick, the amount you can spend on a hair transplant cost in Turkey, and some more.
The age of the hairline decides the facial style of a person. Indeed, even after a hair transplant, to an extreme or too little hairline can harm the motivation behind the hair transplant. The specialist at the BlueMagic Group Clinic suggests picking a hairline that is fitting for the individual's age. The age-proper hairline is the most significant for the normal and unique look.