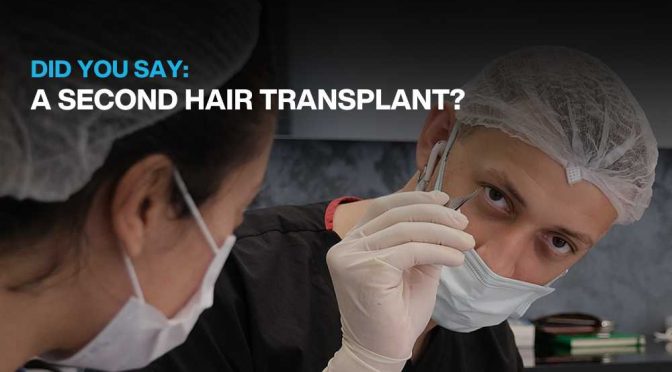 Nov 22, 2022
BlueMagic Group
When Can You Have A Second Hair Transplant?
The latest statistics suggest that, in 2021, 3.4 million people have undergone hair transplantation globally. These figures include first hair transplant surgeries, second transplant surgeries, and so on. The successive surgeries are most common due to multiple reasons and are necessary in many cases.
Though a sapphire FUE hair transplant gives permanent results, the underlying issues including genetics, age, diseases, etc. urge a second hair transplant surgery. This article shall elaborate on every aspect of why a second hair transplant is necessary and how it will improve results. 
Why is a second hair transplant necessary?
A second hair transplant is an extra procedure performed at least eight months after the first one. Most of the time, some patients only need one session to see good results. But sometimes one may need a second transplant to cover all the bald spots, attain hair density, or fix problems caused by a bad hair restoration to make your hair look more natural and full.
Below noted are the possible reasons why one needs second hair restoration surgery.
Androgenetic alopecia (male-pattern baldness)
87.3% of men undergo hair transplantations due male pattern baldness. No doubt that hair transplantation replaces fallen-out hair, but it cannot prevent baldness due to genetics. Hence, in such cases, an individual may need a second hair transplantation to cover the bald area. The onset of this condition should be considered during the first hair restoration, so as to preserve the donor area.
Second procedure for density
If an individual wants to have more hair, they might benefit from having more than one hair restoration. Many people long for the days when their hair was thick and beautiful. But this goal might not be possible with just one surgery. If there are enough donor grafts for the transplant, one can get a second one to make your hair thicker.
To finalize an already performed hair transplant
Individuals having excessive balding necessitate a second procedure that may yield the required hair transplant results. The second procedure, in this case, is because extraction of multiple grafts at a time from the donor site is not recommended. Hence, to get desired results and not jeopardize the survival of the grafts, second hair transplant surgery is necessary.
Hair transplant failure
Practices like over-extraction and overharvesting lead to transplant scarring. This progresses via hair thinning in the donor area. If this thinning persists, a second hair transplant surgery may become necessary for donor hair restoration.
Other reasons for hair transplant failure include improper graft extraction, poor quality graft- extraction, improper incision of grafts, and improper storage of grafts during the FUE hair restoration procedure.
How many grafts can be implanted in second surgery?
There is no set number of grafts to put in during a second surgery because each person is different. In each case, the donor area can only give a certain number of grafts.
For example, if 4000 grafts were taken in the first session and your donor area is in good shape, you might be able to get a 3000 grafts hair transplant in your second try. But this will depend on how well your first transplant went, how big your scalp is, and how healthy your donor area is.
How many hair transplants can an individual get?
Technically, you can have as many transplants as you want as long as your donor area has enough grafts. But it is not recommended to get more than 3. You can only get so many hair transplants because there are only so many healthy donor grafts. Because everyone has a limited amount of donor hair, getting more than 3 transplants may make your hair look unnatural and make the donor area look patchy.
Importance of donor area management
In maximum cases, the donor area is the back of the skull. As this area of the skull is resistant to DHT hormone, it does not suffer from hair loss. Hence, these hairs are the best choice as they are not genetically programmed to fall out. These follicles can be implanted in the balding area. 
This does not mean that the donor area has a never-ending supply of hair follicles. It is important to manage those hairs and not exceed the limit of hair extraction so as to avoid hair transplantation failure.
Final Thoughts
Hair transplantation is a permanent solution to balding and hair loss. However it is also important to consider factors like androgenetic alopecia, aging, and surgical procedures quality to attain life-long results. The second hair transplant surgery is opted for in the above cases. It follows the same principles and stages as the first transplant.
BlueMagic Group is a hair transplant clinic in Turkey that has successfully delivered 21000+ transplants and attained 15+ years of expertise. We provide world-class experience and share expertise in sapphire FUE hair transplantation, DHI, beard, eyebrow, manual hair transplantation, and much more.