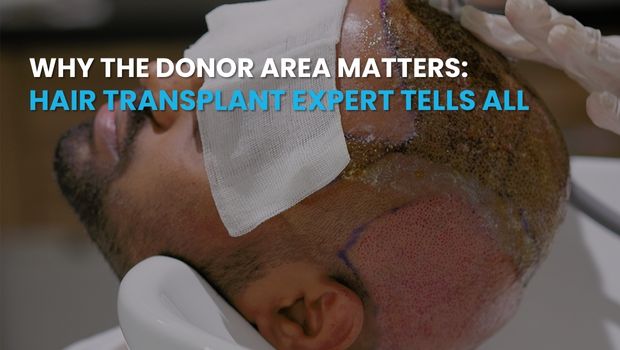 Dec 02, 2022
BlueMagic Group
dhi,donor area,hair transplant
Why the Donor Area Matters: Hair Transplant Expert Tells All
If you have been looking to get a hair transplant and have been wondering how it works to get new hair using a donor area, then this blog will help you to answer all of your questions.
What is a Donor Area?
Donor area, it is a region of the body with maximum hair growth and density. We transplant the hair follicles are from the donor area into the recipient area. The sides and back of the head are typically the best donor areas for hair transplants. Hair on the sides and back of the head grows continuously.
Which is the ideal donor area for hair transplants
The ideal donor area for a hair transplant is in the mid back, sides, and back of the scalp. At the back of your scalp the hair tends to be thickest. This area contains a lot of healthy hair follicles and produces the most results that look natural. The occipital scalp area is the most common donor area, but non scalp donor areas like beard and chest can be used as donor hair follicle area.
There are some factors that should be taken into consideration when determining whether or not the donor area is healthy.
If the donor area has enough grafts
If the donor area has good quality grafts
The size of one's donor area's surface area
Laxity of the scalp
The number of hairs per follicular unit on average
What is a weak donor area?
Therefore, not all candidates are suitable for getting a hair transplant. One of the cases is when someone has a deceased donor area. Other cases of weak donor factors include:
Cicatricial Alopecia cases
People with thin hair are also not suitable candidates.
Younger than 25 to 27 years of age.
How many grafts are in a donor area?
The typical patient has 6000 grafts available for transplantation in his or her donor area. BlueMagic Group use the most innovative and latest hair transplant techniques such as Micro FUE Sapphire and DHI Choi Pen . The minimal number for both hair transplant techniques starts from 1,000 grafts. The max number of grafts per one session Micro Fue Sapphire is roughly 4500-5000. While the max number of grafts per one session DHI is roughly 3500-4000.
How we make sure to avoid donor area depletion from overharvesting
Donor area depletion occurs when 50% of the donor area hair is removed. In a hair transplant process, small punch grafts are removed from the hair-bearing scalp. These grafts are transplanted to a bald or thinning scalp area.
The grafts made in this way vary in size and shape. When grafts are taken, your doctor may inject small quantities of saline solution into the scalp on a regular basis to maintain proper skin strength. For punch grafts, a single stitch can close each punch site. for other types of grafts, a slight, straight-line scar will result. There are few factors which are involved to give a recipient a successful hair transplant, that is the reason why Hair Transplant Results in Istanbul are so famous as they have decoded the exact reasons which concludes what and what not to be done for a successful hair transplant surgery.
Choice of Technique
One of the most important decisions to make before the hair transplant surgery is to choose the right kind of operating technique which will suit you and give you the best result, that will give you good quality hair, decreasing the after effects and complications during the type of surgery. Important steps to be taken while doing a Hair Transplant Surgery, knowing what's best for the recipient patient that has the highest amount of survival is extremely important. Identifying patients' health, their needs as per their characteristics and then boiling down to the best technique suited as per their profile holds the utmost importance.
Precautions after the surgery
For the hair to sprout among the barren baldness of your head, you need to abide by some strict rules and regulations. For your surgery to provide you with the benefit of hair growth, here are some precautions you should undertake after the procedure.
Swelling: You may seem to encounter some form of bloating or swelling on the forehead. Usually, swollenness appears on the second or fourth day after surgery. It's best not to worry at such times for it's a transient phase and won't be posing any problems in the future. The swelling might come down to those eyelids due to the act of gravity. While it will take two-three days to bid it farewell, you can avoid it by elevating your head to 45 degrees using a pillow.
You should not indulge in any activities on the first days of the week. With your body going through a phase of transformation, you are much vulnerable to several diseases and infections. In case you don't have an option of a one or two-week leave, try your best to stay off from dirt and bacteria. To avoid chances of infections, you should avoid touching the donor area as well as the planted follicles. For any pain, redness or swelling you are experiencing, you should report it to your doctor immediately.
Staying away from exercise is always good for your health but not on those first few days post-surgery. Stay off from lifting heavy weights and hard-hitting exercises for two-three weeks. It might retain the swelling while triggering blistering. As such, you should not involve yourself in any form of physical activities and exercises and prefer to take some day off. Don't tinker with the roots.
Gently wash your hair after the third day of the procedure. Avoid touching or shifting the planted roots while taking a shower. The same applies while combing your hair. The hot air of a hair dryer can cause much trouble in the treated area.
Conclusion
The donor area indicates the most important step for a successful hair transplant surgery. It will take another five to six weeks for the hair to regrow once it has fallen out. After your scars have healed, you may require a surgical "touch-up" procedure to get more natural-looking hair transplant results. This is when the surgeons will be able to determine the area's regrowth and decide whether the transplant was successful.
It has been reported that the survival rates of 90 to 100% of hair grafts is subjected to good research, right choice of donor/recipient area & the choice of clinic with expert doctors who will not leave any stone unturned to give you the best results. This kind of service & a donor's expectations can be only reached if the surgery of hair restoration is done by the experts, and the best hair clinic in Istanbul which has the team of expert doctors, nurses and the best techniques, etc.