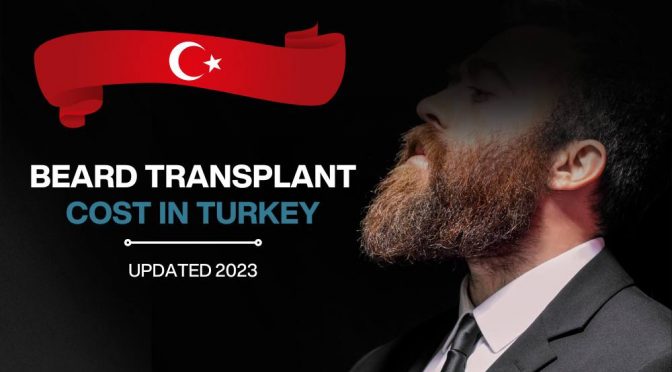 Mar 10, 2023
BlueMagic Group
How Much Does a Beard Transplant Cost in Turkey 2023?
Across the world, the beard transplant cost ranges from $3,000 to $15,000. This depends on the number of transplanted hairs and the specific needs of an individual. 
Beard – A sign of masculinity, makes men look classy and strong. Every man preserves the beard, and in some cultures, it is a sign of pride and prestige. But for some reasons, like genetics, age, alopecia areata, low testosterone level, or any underlying condition, men struggle in maintaining a beard.
Thus, plastic surgery for a beard transplant is what many men opt for. This indeed increases the demand for beard transplants. Among many countries in the world, beard transplant in Turkey is much more in demand. It is due to the fact that the beard transplant cost in Turkey is way less than in other countries. To be precise, it costs around $1,900 – $4,500.
Let's walk through the factors that affect costs in Turkey and also expectations after a beard transplant.
Cost of Beard Transplant in Turkey in 2023 
Men who want to get their facial hair back usually have a clear idea of how they want their beard to look. Beard restoration helps men with thin or missing hair who want a goatee, full beard, sideburns, or who need to hide facial scars, burns, a fixed cleft lip, or laser hair removal. So, a rough estimation for partial procedure costs ranges from $3,000 to $7,000, whereas a full procedure cost ranges from $7,000 to $15,000.
These stats were for countries across the globe. When concerned about the cost of beard transplants in Turkey, ranges from $1,900 to $4,500. Health insurance may cover the therapy at some hair transplant clinics in Turkey. This would be the case when hair loss is accompanied by an underlying condition.
Cost of Beard Transplant in Other Countries
The list of the top 10 countries for beard transplants and the cost in 2023
| Country | Beard Transplant Price ($) (starting price) |
| --- | --- |
| Turkey | 1900 |
| Poland | 2900 |
| Hungary | 3650 |
| Spain | 4000 |
| Thailand | 1418 |
| Germany | 5000 |
| Mexico | 3550 |
| India | 2000 |
| Malaysia | 4300 |
| UK | 3000 to 7000 |
Factors Affecting the Cost of Beard Transplants in Turkey
Most candidates for beard transplant visit Turkey for safe and affordable transplant procedures. All the hair transplant clinics in Turkey offer all-inclusive packages that help patients save an extra 20% to 30% of the total cost. Moreover, the experienced surgeons in Turkey boast overall experience. By integrating the latest technology with transplant procedures, surgeons stay updated, innovate, and rejoice in the experience of every visitor.
The cost of a beard transplant in Turkey depends on the following factors:
Experience of a Surgeon

: A surgeon with more experience may charge more for a certain treatment. But a patient getting a transplant from one of these surgeons can expect better results and more accuracy.

Brand Reputation

: Known hospitals in the country may charge 10–15% more for the same procedure, based on how popular they are and how much demand there is for them.

Type of Hospital

: A hospital or clinic that has all the latest technology and is well-equipped will charge more than a normal hospital or clinic.

Beard Transplant Package

: Any type of hair transplant in Turkey are inclusive of-

Accommodation

VIP transfers

Painless local anesthesia

PRP treatment to stimulate hair growth

Post-operative care essentials
Why is Beard Transplant in Turkey Affordable?
One of the main reasons why hair transplant cost in Turkey is low is because it prefers to make goods and products there instead of importing them. This means that shipping, logistics, and customs costs are not added to the final price. This same idea is one reason why health care and surgery costs are low in Turkey.
In the U.S., U.K., and Europe, average salaries have a lot to do with what can really be called "low cost." Here in Turkey, both income and the cost of living are higher. 
What to Expect After a Beard Transplant?
After the beard transplant procedure, the recovery phase begins. Tiny crusts may form around each newly implanted hair follicle, but they should fall off in a few days. After a week to ten days, you should be able to shave and trim your new beard like normal. No matter what kind of procedure is done, the transplanted hair follicles should be set in place and grow within 3 or 4 months.
Wrapping Up
The beard transplant cost in Turkey is on average $2,500. It also includes other facilities, including stay, journey, and VIP. A new beginning with its scenic beauty and delightful environment may leave you astounded and satisfied.
BlueMagic Group is a reputed clinic providing hair transplants in Turkey. Specifically for beard transplants, it offers the latest technology of DHI CHOI Pen treatment or FUE treatment based on an individual's requirements. They have top-level experienced surgeons who have been recognized with awards. Every individual visiting BlueMagic Group is rewarded with a fascinating experience with accommodation in a 5-star hotel and painless surgery.