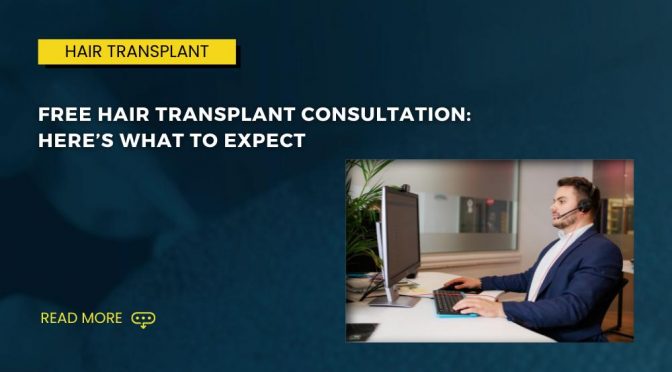 Nov 01, 2023
BlueMagic Group
Free Hair Transplant Consultation: What to Expect
Are you considering a hair transplant to address your hair loss concerns? If so, it's important to start with a thorough and informative medical consultation. A hair transplant consultation is a crucial step in the process. Allowing you to discuss your hair loss, understand your options, and create a personalized treatment plan. In this article, we will explore what you can expect during a hair transplant medical consultation so that you can be prepared and make the most of this important appointment.
Understanding the Importance of a Hair Transplant Consultation
Before diving into the details of what to expect during a hair transplant consultation, it's essential to understand why this step is so crucial. A hair transplant is a significant decision that should not be taken lightly. It involves a surgical procedure that will have a lasting impact on your appearance. Therefore, it's essential to consult with a qualified medical professional who can assess your specific hair loss situation. Guide you towards the most appropriate treatment options and find the most suitable solution.
How to Book A Free Hair Transplant Consultation?
When seeking a hair transplant consultation, it's important to choose a reputable clinic with experienced professionals. One such clinic is BlueMagic Group Clinic. The clinic is located in Istanbul, Turkey and has done more than 30'000 successful surgeries for patients worldwide.  To book a free consultation with this clinic all you need to do is complete the form here!
As soon as you complete the form, one of their senior medical consultants will get in touch with you to discuss the best time for the consultation. During your consultation at BlueMagic Group Clinic, you can expect to receive personalized attention and expert advice from their team of highly skilled medical consultants and medical doctors.
The Process of a Hair Transplant Consultation
During your hair transplant medical consultation, you will go through several key steps to assess your hair loss condition, discuss your goals, and determine the best course of action. Let's take a closer look at what you can expect during each stage of the consultation process:
Step 1: Personal Background Evaluation
At the beginning of your consultation, the medical consultant will take the time to understand your personal background. This includes discussing your family history of hair loss, any previous hair transplant surgeries you may have undergone, your lifestyle, and any relevant medical conditions. Each patient receives an online medical questionnaire, where important details about his/her medical conditions and behaviour are evaluated. These details help the medical consultant gain a comprehensive understanding of your hair loss situation and tailor the initial medical diagnosis accordingly.
Step 2: Hair Loss Assessment
After evaluating your personal background, the medical consultant will perform a thorough hair loss assessment. This involves examining your scalp to determine the extent and pattern of your hair loss through a set of photos that are requested from the patient side according to the document below.
The density of your hair, degree of miniaturization, and potential future hair loss will be carefully assessed. This assessment is crucial in determining your eligibility for a hair transplant and planning the most effective treatment approach.
Step 3: Method Recommendations
Following the results of your hair loss assessment, our medical team will suggest an appropriate hair transplant method tailored to your unique hair loss condition. Our medical consultant and doctors will provide detailed explanations of the advantages and disadvantages associated with each option, empowering you to make a well-informed choice regarding the most suitable course of action.
Step 4: Managing Expectations
During the free hair transplant consultation, the medical consultant will also manage your expectations. By discussing realistic outcomes and potential limitations of the recommended treatments. It's important to have a clear understanding. More importantly, what you can expect in terms of results, recovery time, and potential follow-up procedures? Open and honest communication is key to ensuring that you have realistic expectations and are satisfied with the final outcome.
Step 5: Cost and Financing Options
As part of the consultation, the medical consultant will discuss the cost of the recommended treatment options. They will provide you with a detailed breakdown of the costs involved. Including the procedure itself, any necessary medications, accommodation, private transfers and post-operative care.
Step 6: Addressing Your Concerns and Questions
Throughout the consultation, the medical consultant will encourage you to ask any questions or express any concerns you may have. This is your opportunity to gain a comprehensive understanding of the procedure. Its potential risks and benefits, and any other relevant factors. The medical consultant in collaboration with the medical doctors will provide honest and thorough answers to your questions. Ensuring that you feel confident and well-informed about your decision.
Conclusion
A free hair transplant consultation is a crucial step in the process of addressing your hair loss concerns. By choosing a reputable clinic like BlueMagic Group Clinic and participating in a thorough consultation, you can ensure that you receive personalized advice. Understand your treatment options. Make an informed decision about your hair restoration journey. Remember to be open and honest during the consultation. This will enable the medical consultant to provide the best recommendations tailored to your specific needs. Take the first step towards regaining your confidence and achieving your desired results by scheduling a hair transplant medical consultation today.